The Battle of Hastings illustrates many aspects of the medieval world.
The Bayeux Tapestry, a picture in the Public Domain from wikipedia commons
Firstly, the medieval world was warlike. People solved disputes through battles, not diplomacy. Powerful men (and the occasional powerful woman) pressed their subjects into wars to gain power, to retain it or to further some cause they considered important. Sometimes I think that history is full of old men sending young men to war. This is a cynical view and you may find evidence to mitigate it – but not in this story.
Secondly, in medieval life, doubt over succession in a kingdom could lead to crisis: battles, struggles and civil wars. Power was a potent motive for people, seemingly more potent than the fear of death or defeat. In these struggles, the poor were often pawns, just as in the game of chess.
Thirdly, the Battle of Hastings illustrates an old adage: the victor takes the spoils and tells the story. William the Conqueror (who started out as William the Bastard) won the battle, the kingdom and the right to tell history his way. The Bayeux Tapestry was his testament; his followers cast him as a hero. A huge proportion of the English nobility died in the Battle and so did not survive to provide the other side of the story. Harold Godwinson, the English king whom William defeated, is believed to have died with an arrow through the eye.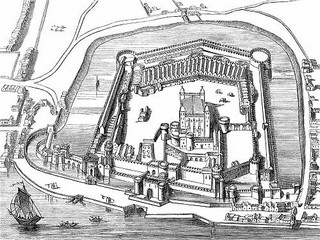 The Tower of London, from www.fromoldbooks.org. This building was started after the Norman conquest – as were many other forts and castles intended as Norman strongholds against a hostile Saxon population.
Lastly, one battle did not make a conquest. If you want to control a whole country, you may have to wage war in a sense for years – perhaps even for generations. William the Conqueror was single-minded in his determination to overcome the English population. He dotted castles all over the landscape, he put down northern rebellions with ruthless cruelty and then, just to top it all off, he got a medieval database up and running in the Domesday Book (pronounced DOOMSDAY) and used it to tax the English.
Start your study of this famous story by playing the Battle of Hastings game at the wonderful BBC website:
http://www.bbc.co.uk/history/british/normans/launch_gms_battle_hastings.shtml
Now answer these questions about the Norman Conquest:
http://www.eyewitnesstohistory.com/bayeux.htm
1. Why was the death of Edward the Confessor the catalyst for this struggle?
2. Who were the three main claimants for the throne and what were their claims?