Welcome back, 7F! Hope you had a brilliant time on camp.
Before we move on to ancient Rome, those of you who haven't yet done the exercise titled "Legacies of Ancient Egypt" need to page down to it and complete it, including the comment on your legacy! After that, work on the tasks below:
Ancient Rome
When I think of ancient Rome, the first things that come to mind are gruesome. I think of the chariot race from Ben Hur, Julius Caesar being stabbed thirty-five times in the Senate (according to one source), the crucifixions of the slave rebels on the Appian Way, gladiatorial contests with the crowds drooling in their blood-lust…But surely it's not all blood and gore! After all, the Romans ruled a massive swathe of territory and established, for the long period of their control, a time of lasting peace, sometimes referred to as "Pax Romana". So there were great and unbloody accomplishments as well as the blood sports, corruption, poisonings and cruelty. See what you can find out about this ancient civilisation by doing the exercises below:
Clipart kindly provided by www.phillipmartin.info/clipart
Create a Word document titled: The Roman Empire
1. Find a map showing the greatest extent of the Roman Empire (around 117AD) and paste it into your document. You can use the one below if you like:
http://gbgm-umc.org/UMW/corinthians/maps/empire.gif
2. List six modern-day countries which were under the control of the Roman Empire, with their ancient names. For instance, France was called Gaul.
3. The BBC website describes the Romans as "ingenious but brutal". I think this is a succinct description. Six emperors are listed on this website as "pivotal". Read about one of these and explain why this term is used to describe him in your own words.
http://www.bbc.co.uk/history/ancient/romans/romespivotalemperors_gallery.shtml
4. Check out these beautiful mosaics of ancient Roman Britain before trying one of your own:
http://www.bbc.co.uk/history/ancient/romans/mosaics_gallery.shtml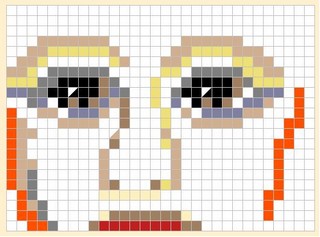 This is my attempt at a mosaic. Well, I'm no artist…
A photo of a mosaic by John Bayley, a family friend who visited Jordan this year:
Now create a mosaic of your own at http://www.gwydir.demon.co.uk/jo/mosaic/index.htm; then press Control/PrintScreen and copy your mosaic into Paint. From there you can copy it onto your Word document for posterity.