An Introduction to the Night of Notables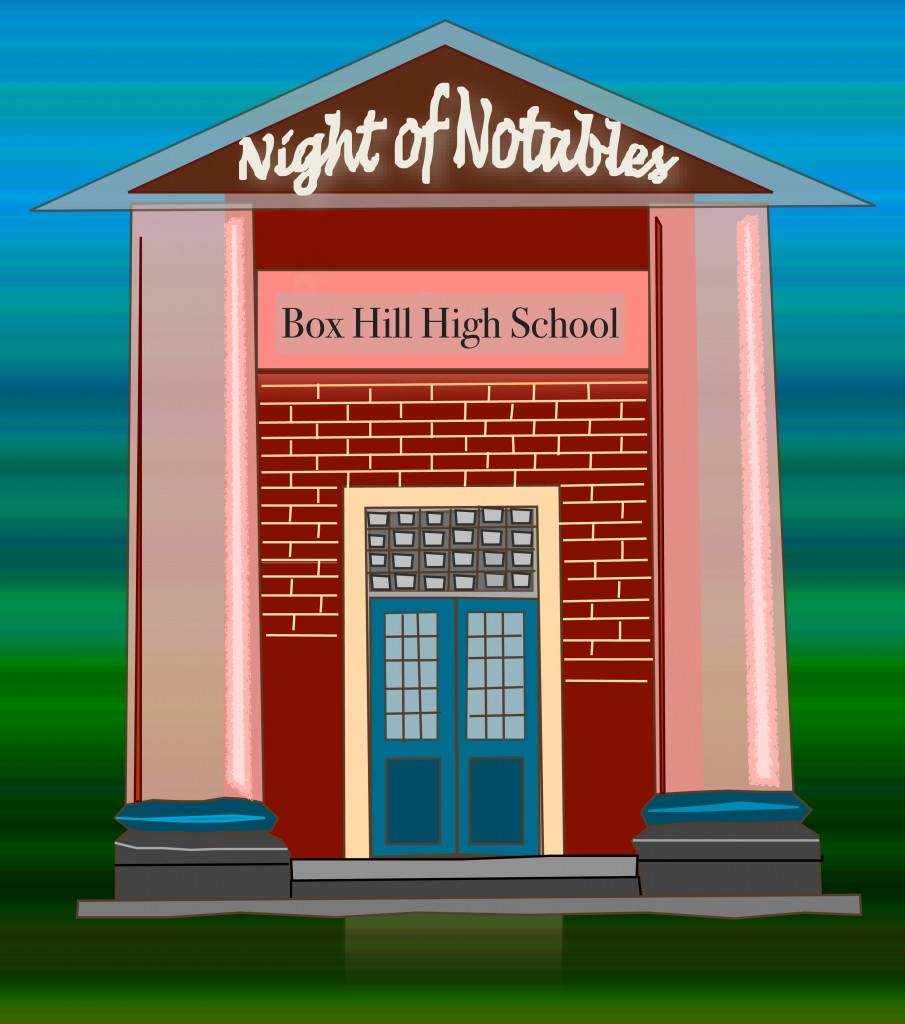 There is a distinct buzz each year on the Night of Notables. Students arrive in their costumes, ingenious displays are set up, older students come along to see what the little tackers are up to, and teachers mill around, trying to contain the excitement of the masses and hoping to be educated further by their students.
The day and the evening work like this:
♦ In Periods 4 and 5 of the school day, students set up their displays.
♦ Year 7 students are dismissed at the beginning of Period 6, so that they can go home and rest up for the evening ahead.
♦ They return at 6.00, fully costumed, with their family in tow.
♦ At 6.30 sharp, the students are presented in the school hall. Students walk onto the stage proudly and deliver one sentence that sums up their notable person's life.
♦ After the presentation, everyone visits the displays and admires the students' hard work and inventiveness.
****************
The interview with Tina below provides advice from a student who completed the Night of Notables project in 2009. Her work was so thorough and inspiring that I asked her to let me interview her for posterity. In order to listen to what she said, click on the "Play" button in the section on the top left of the glog below. Below the glog is more information on the Night of Notables.
♦For some ideas about notable people you might never have considered, read this page.
♦If you scroll down to the bottom of this page, you can also view some useful handouts and formats for your poster and a checklist of ideas for your display, or you can go to this link to download these handouts.
♦If you are struggling to decide which notable person you wish to study, the websites on this page might be useful to you.
Ideas for your Display
First of all, here's a picture to show you what a display could look like. This will give you some ideas for what to prepare. Of course, your display will be specific to the notable person you have chosen. This is just a general idea to help you start your planning.
The next graphic is a suggested layout for your poster. You do not have to follow it to the letter but you do need to ensure that you use paragraphs and cover all the topics on this handout. Remember that your personal response to the ideas and achievements of your notable person is the most important aspect of your assignment. Make sure you show how much you have thought about and evaluated his or her contribution.
To download a printable version of this poster design, click HERE or on the picture below:
DISPLAY CHECKLIST
Many of the tasks below can be done in class at school. Some may be easier to do at home. Students don't need to tick all the boxes; we have marked the essential items with an asterisk. They may also have ideas not on this list.
qTablecloth* This may be plain or it may relate in some way to the Notable's life: flag colours, perhaps, or symbols pinned or stuck on an old sheet. A display looks polished and attractive with a tablecloth, and a little bare without it.
qPoster* A summary of the main details of the Notable's life. This will be handed in and graded after the night, and hopefully displayed in a classroom afterwards. Suggestions on how to set this out will be provided in class.
qName of Notable in large letters*
qName of student/s and their form group in large letters*
qQuestion box* The students choose ten questions that they feel confident they can answer about their Notable. Each question is written on a slip of paper or card and then put into a box to be drawn out by people visiting the display.
qPersonality box* This may contain symbolic items representing the Notable's life. The box helps to fill the table and is also enjoyable for the students to create. An old shoe box is just right for this. Ideas for items that could go in this box will be discussed in class.
qCostume* Keep this as simple and low-cost as possible. Use old clothes and borrow from friends.qQuotations Printed out large, these can look great. They might be words said by the Notable person in a speech, or a quotation from a book written by the Notable, or words that someone else has said about him/her.
qTimeline of Notable's life
qFood This may relate to the Notable's life or country of origin.
qPictures of the Notable person I can help with photocopying these if desired.
qModel A simple version of something the Notable invented, discovered or developed, if appropriate. Anything that is 3D makes students' displays look fuller.
qPowerPoint display
qActivities These could include quizzes, word searches, colouring competitions, or hands-on experiences.
qGiveaways Something small representing the Notable in some way. One group of students, for instance, gave out Shakespeare sonnets. One student created a little black figure and a little white figure holding hands, to symbolise the ideas of Martin Luther King.