Once upon a time there was a shy and gentle man called Dewey Decimal. He spent nearly all of his time reading, doing crosswords and playing games with his children. Of course he had some social pursuits, but he didn't like parties much and he rarely acted on impulse. Sometimes, to liven up his weekends, he would try a sudoku. Usually he wore shabby corduroys, old tweed blazers and thin striped ties. His children adored him and he would often tell them stories that would bring a faraway look to their eyes.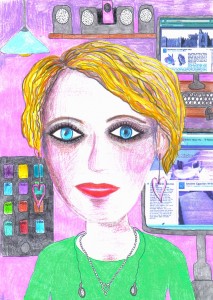 T
hen a new person moved in next door. She was a vivacious woman who wore large dangling earrings and played loud music with a funky beat. Friendly and approachable, she dazzled the children with her sparkling smile and the sheer speed of her conversation. In her modern and elegant house, there was a huge flat-screen plasma television. She seemed to own every conceivable gadget.
All the stories that Dewey told seemed suddenly as old and shabby as his clothes. His children would sit staring at their new neighbour's face, asking her questions and watching her screen for hours. They loved everything about her. Even her name was cool. She was called Google It.
For a while, Dewey Decimal was very sad. His children seemed to have forgotten him completely. He missed their chirpy little voices. Sometimes he found himself thinking that even their squabbles were preferable to his solitude. His beloved crosswords lost their charm and his weekend sudoku became a chore rather than a pleasure.
Dewey wondered whether he should buy some new clothes and try to update his record collection. He contemplated giving up his crosswords and taking up some hobby that would catch his children's imagination. What could he do to bring his children back to their home? Whenever he saw them, he offered to tell them a story, hoping that they would be as eager to hear him as they had once been. Usually, however, they were in a hurry to visit Google.
Dewey was not a jealous man. He was happy that his children had a new friend, but he felt that he couldn't bear to lose them for ever.
Then one night there was a storm. A tree fell on Google's power cable, shutting down all her gadgets and plunging her house into darkness. Unfazed, she used her mobile to call Emergency Services and sent the children home, where they would be safe.
The children were disappointed, of course, but they cheered up when they found their father, as always, seated by the fire. He greeted them warmly and asked them humbly if they would like to hear a story. They looked back with longing at Google's house. It was still dark. For this night they realised they would have to make do with their father's stories.
They settled down to hear him as once again he wove his magic. It was such a long time since they had heard their father's stories that they had almost forgotten how wonderful they were. This time they were enthralled. In the glow of the fire they listened, seeing the story in their minds as he spoke. When it was over, they heaved a sigh. If only stories didn't have to end!
Then they remembered the storm and glanced through the window at Google's house. The lights were back on. The electric cable must have been fixed. They could go back!
But instead they looked with affection at their kindly, clever father and the youngest child said, "Tell us one more story, Dad."

After that the children spread their time between their fascinating new neighbour, Google It, and their father Dewey. And as they grew their eyes were like stars, their minds were filled with wisdom and there was joy in their hearts.