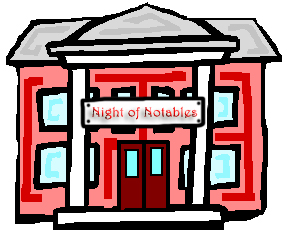 Here's a tip: choose someone that few others have chosen. Choose someone YOU don't know very much about. That way there will be a mystery for you to solve and many people will be curious to know about the person you have chosen.
Here are some notable people who, despite their great achievements and determination to improve human life, have only rarely been chosen by students before.
You won't be able to watch any of the You-Tube videos at school, I'm afraid. You-Tube is frowned by the educational authorities, even though it can be thoroughly educational.
Kath Walker (Oodgeroo Noonuccal) She was an Aboriginal writer and activist who gave back her MBE in protest against the treatment of her people. Influential in winning the vote for Aborigines, she was a writer of great purpose and conviction. For instance, she wrote: "We need help, not exploitation." One of her saddest poems was about an old man who was the last of his tribe. There was noone left who could speak to him in the language of his people. The poem shows her sense of loss and the desperate isolation of the old man. Oodgeroo Noonuccal wrote many moving poems. She was also partially responsible for gaining the vote for Aboriginal people. Click on this link to read a brief introduction to her life: http://www.library.uq.edu.au/fryer/worth_fighting/2.html
Harriet Tubman was nicknamed the "Moses of her People" for her role in saving slaves through the so-called Underground Railroad in America.
Jane Austen was one of the great authors of the English language. In her novels she described the narrow social world of the English country towns where she lived; she explored the
limited social experiences of her characters. That doesn't sound all that impressive, does it? And yet, and yet…Somehow these stories, set in the early 1800s, have had an abiding impact on her readers. They have inspired many films, discussions and debates. For Austen's insights into human nature are astounding. This brilliant woman, who never married and who died in her forties, had an acute understanding of human love and cruelty, a sharp wit, a measured cynicism and a power with the English language that few, if any, have been able to match.
Emily Bronte

was a great author and poet. Her poem "Remembrance" is deeply moving and her novel, "Wuthering Heights", is one of the great works of English literature. Yet she was writing at a time when women usually had to take the name of a man to have any chance of being published.
Vera Brittain
was an author and peace activist between the World Wars in Britain. Although she was accused of being disloyal for trying to seek peace, her name was ultimately found on a list of people the Nazis would like to assassinate, which improved her reputation with the English people! Her famous book, "Testament of Youth", told the tragic story of the young men she loved who died in WWI, including her brother and fiancee.
J
udy Horacek

is an Australian cartoonist who takes a strong feminist stand and is politically astute and cynical, yet with that whimsical edge to her work that many great Australian cartoonists seem to have. A champion of the rights of minority groups and a social commentator, she would be a fine choice for the Night of Notables. Her cartoons can be viewed at the National Library of Australia website. Here is the link:
http://catalogue.nla.gov.au/Search/Home?lookfor=Judy+Horacek&filter%5B%5D=format%3APicture
W.E.B. DuBois was an African American activist and writer in the 1920s who spread the story of the murders and lynchings in the south. He tried to promote the right of African Americans in the south to live without persecution, prejudice and arbitrary attacks. In his publications he exposed the cruelty of those who wanted to ensure that, even though the slaves had been freed, they should still be forced to live like slaves. He gave a voice to people who had no voice.
Sir Mark Oliphant was a brilliant Australian scientist whose work in nuclear physics was partially responsible for the creation of the bombs that destroyed Hiroshima and Nagasaki. He was forever regretful at the calamity they had caused, however, and later spoke out against the use of science for immoral ends.
http://www.abc.net.au/schoolstv/australians/oliphant.htm
http://www.abc.net.au/pm/stories/s153006.htm
William Wilberforce was a campaigner against slavery in Britain in the 19th century. He died just a few days after the bill abolishing slavery succeeded.
William Barak was an artist, an activist and a leader of his people, the Wurundjeri clan, who lived in Melbourne before the coming of the Europeans, and whose descendants still live here today. The government continually took land and rights from the Aboriginal people and Barak, despite his growing sense of futility and despair, continued to plead, protest and fight for decency, fairness and equality.
http://www.ngv.vic.gov.au/barak/artist.html

Sofonisba Anguissola was a great woman painter of the Renaissance. Until the internet came into being I didn't even know she existed. Woman artists rarely make it into art books. Yet some of her paintings are just lovely. They warm my heart because they show people enjoying life and doing quite ordinary things – even smiling! One of her most famous paintings shows a few young girls playing chess and smiling. This was quite rare in those days. There's also a self-portrait of the artist at her easel.
Golda Meir – Israeli Prime Minister